Preparing for Your New Puppy

---
Puppy Overview


I think we can all agree that Chihuahuas are especially adorable as puppies. If you are up for the challenge of owning a Chihuahua or multiple Chihuahuas, know that they take time, energy, money, and commitment. In return, you will have more than a decade possible two of constant entertainment, loyalty, laughs and companionship.
Chihuahuas are in a class all their own from their small size to temperament, personality and so much more. It may be tempting to continue to add more Chihuahuas to your household, as they do not eat much or take up much space, but keep in mind each chihuahua will bring additional financial responsibility. Your vets bills will not be smaller, if you travel, whether using a pet sitter or boarding you will incur additional costs and you will need adequate time and love for each chihuahua you bring into your home. Here we will discuss choosing and getting prepared for your new puppy, puppy proofing, picking a name, nutrition and feeding schedule, wellness, behavior, first aid and of course toys and accessories.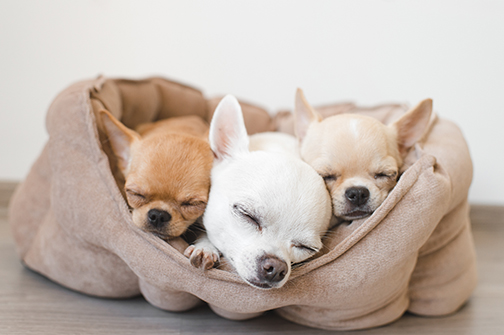 Choosing a Chihuahua Puppy


So you have made the decision that you definitely want a Chihuahua. Most people start to look for puppies in newspapers, online and offline ads, pet stores, through friends, rescues and breeders that breed for the love of Chihuahuas. Hobby breeders and rescues should be your first choices from this list. You can locate reputable and ethical breeders and rescues through the American Kennel Club and the Chihuahua Club of America (click on breed info) and Chihuahua magazines or kennel clubs. Other rescues include: Chihuahua Rescue; Chihuahua Rescue and Transport; Rescue Me. You can also try Petfinder.  They are an online database of animals that need homes and also a directory of thousands of animal shelters and adoption organizations across the US, Canada and Mexico.
Try to visit breeders to see how the puppies and parents look and their living conditions. Good hobby breeders are focused on their Chihuahuas and their good health and puppy care. They care about their puppies and will diligently screen prospective homes for their pups and enjoy being kept in the loop of their progress and if any health issues arise.  
If you are choosing to adopt your puppy from a rescue or shelter, which by the way is an excellent idea due to the increasing number of Chihuahuas in shelters and Chihuahua rescues, here are some guidelines. First, you will usually see more Chihuahuas in rescues because their family has underestimated the level of commitment this pint size dog required. Ensure that you find out as much as you possibly can about the dog and their history, before you adopt a rescue pup. A few questions to ask are: why the pup was given up, do they prefer to be around men, women or children or other pets, and are there any health or temperament issues and if so why. Answers to these questions will really help you connect with your new puppy or rescue and help you to be more sensitive to previous unpleasant experiences or current temperaments.  
If going through a reputable and ethical breeder here are a few guidelines to follow. Your puppy should have had their first vaccinations, be outgoing and active, be clean with healthy skin and coat, no irritation around the anus, healthy gums, have clean eyes, ears and nostrils including no signs of discharge, not be dehydrated which you can test by can hold and release their skin which pop back in place. Good breeders screen for health concerns as previously noted and can easily compare their dogs with the breed standard, they do not over-breed and are dedicated to one or two breeds.  They will also ask you a lot of questions about your home, lifestyle, previous experience with dogs, as well as your expectations with your new puppy. Most will require that if you ever had to give up your new puppy, you return to them. Your breeder will not release their puppies until they are twelve weeks or older and finally, they should provide a full medical history, pedigree, registration, and documented care instructions.
As far as cost you can expect to pay between $400-$700, keep in mind this scale will vary depending on location. Chihuahuas usually have small litters, so an ethical breeder will need to cover costs. This cost should include spaying or neutering. Males and females should be the same price.  If this is not the case, you are not dealing with an ethical breeder.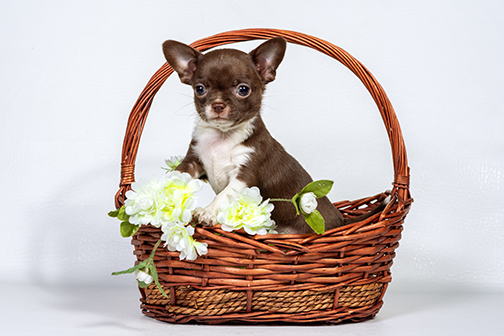 House Preparation for Your Puppy
Your start up kit should include a bed, a carrier, a crate large enough for an adult Chihuahua to stand in without lowering their head, nylon harness and nylon leash or retractable leash, an elevated stainless steel or ceramic food and water dishes,  air tight food  and treats containers, an exercise pen, pee pads and  stuffed animals, balls, squeaky toys and chew bones. You will also need puppy gates, soft brush, dental kit, nail clippers, poop scoop, dog shampoo, a first aid kit and of course food and treats.  For food it is best to start off with what your puppy has previously been eating.
Your puppy's first bed should be simple and inexpensive until they are house trained and past the chewing stage. After that, you can get burrow beds, heated beds, couch beds and the list go on and on. If you Chi is always with you, I suggest getting a bed in every room or at least in most rooms. Make sure you always check the temperature of heated beds first.
Carriers are perfect for vet visits, plane rides and road trips. Make sure your carrier has enough room for your Chi, is soft and comfortable, well ventilated, can be easily cleaned, will easily fit in your car seat, has extra storage for supplies and is TSA approved.
Although my Chi was not crate trained, most trainers and veterinarians recommend doing so. Your Chi's crate is her private sanctuary where she can come and go and a great tool for initial training and ensuring safety. Go a small crate that has a few extra inches larger than your Chi.  Do not forget to buy a crate pad or you can use towels or blankets to make it for comfortable.  No need to use pee pads in the crate, as they have a scent that encourages puppies to pee which you do not want them to do in their crate.
Never use the crate as a form of punishment or to confine your Chi for long periods of time.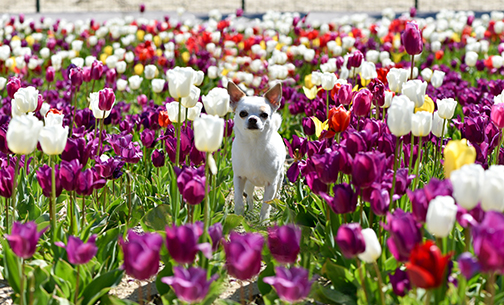 A nylon or mesh harness is the safest collar solution for your Chihuahua as they cannot slip out of it or hurt their neck and they can easily be lifted in the air in an emergency. Collars should be used to hang an ID tag on, but not used for walking or to be tied up, as collars can put pressure on your Chi's trachea or cause choking. Do not buy choke chain as they will hurt your Chi's neck. Do not get plastic bowls as they can cause allergic reactions or hold toxins or germs.
An exercise pen is great for travel and can be used both indoors and outside. They are tall enough to protect our Chi and still open as they have no top and netted panels. They are also great for house training. Gates will be essential during the puppy stages and will help you keep your sanity to block off a room while you tend to other chores and will keep your puppy safe.  
Stainless steel or ceramic food and water bowls are the best option. If you heat your dog's food, ceramic bowls are more convenient.  The bowls should be low and wide. Both can be sterilized in the dish washer and they are better than plastic, which can emit chemicals in her food and your puppy may chew and end up with plastic in her stomach. Airtight food and treat containers will keep contents fresh and bugs and rodents out.
Essential grooming supplies include a soft bristle brush for smooth coat Chihuahuas and a fine-tooth comb and small pin brush are good for long coats. Either nail grinders or nail cutters that include a safety will be needed. A dental kit with a soft toothbrush or finger toothbrush along with flavored toothpaste are essential. Keeping a Chihuahua's teeth clean is extremely important. Peanut butter flavored is good choice.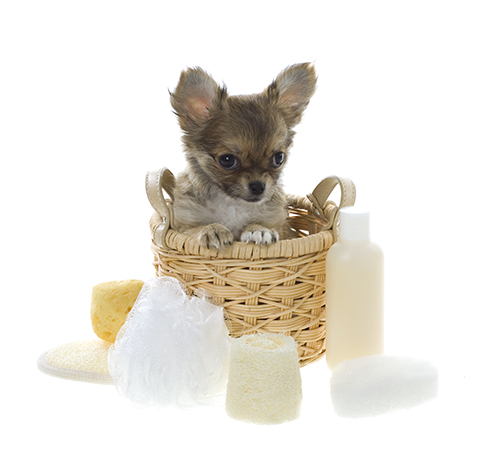 Make sure your Chi has an identification tag on a collar or is microchipped so if she ever gets lost you will have a great chance of getting her back. Tags are an easy way to quickly to identify your dog. I personally use both methods because the tag could fall off.
Microchipping is a permanent way to identify your Chi. A microchip is about the size of a grain of rice that is implanted under your dog's skin with its own number that is identified with a reader is passed over the skin where it is implanted. Your microchip will need to be registered with a recovery service that stores your contact information.
You might consider getting a puppy litter box, pee pads or indoor dog potties for when you are at work or out running errands. All are available at pet supply stores.
Toys and Accessories


This is the fun and important part! Chihuahuas love toys and accessories and view them as essential. They need toys for mental stimulation, and they are a great tool for the two of you to connect. Toys can also be used to teach your Chi basic commands.
It is a good idea to monitor your puppy while playing with her toys and make sure you read the toy disclaimers. Ensure no part of the toys can be ripped off or swallowed. Make sure to get a good variety of toys including interactive ones too use her brainpower. Chew toys are essential and fun.
Having a small cute basket just tall enough for you Chi to pick out toys for herself placed in the family room will always provide entertainment. Your Chi will love to come with you to the pet store to investigate.
Your Chihuahua will also need at least one sweater and a coat. They get chilly very easily as their tiny body loses heat quickly. This applies even in a warm climate. Chihuahuas love warmth and sunbathing.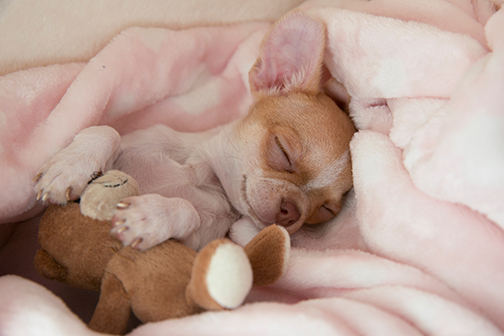 When it comes to picking a name for your little ball of cuteness, you have a lot of inspiration from their size, heritage, colors and/or markings and their unique adorable expressions. You can also get inspiration from Chihuahuas in movies, those owned by celebrities or get ideas from puppy name books.
The best format for your dog's name is a short, easy to say name, a name that will last ten years (not a fad). Teach your dog to recognize their name using treats. When your dog looks at you, say their name and give them a treat with positive reinforcement and repeat multiple times daily.
To get you started, here are a few ideas.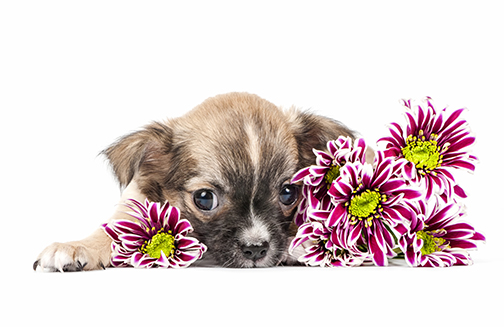 Puppy Proofing


Puppy proofing your home is extremely important to do prior to bringing your puppy home. Your Chihuahua will want to explore every inch of your home and is small enough to fit into and under every nook and cranny including underneath furniture.
Your Chi is very fragile, so make sure there are no tables or bookshelves she could jump on that may fall on top of her or cords she could pull down that could or even kill her. Also, puppy proof electric outlets and do not let your Chi near deck edges or balconies and be careful around staircases.
Make sure the entire family is careful with swinging doors and when closing doors, which could crush your puppy. Your puppy may not realize a clear glass door is a door and may get injured.
Garage doors can be a hazard as well so make sure your puppy is secure when closing them.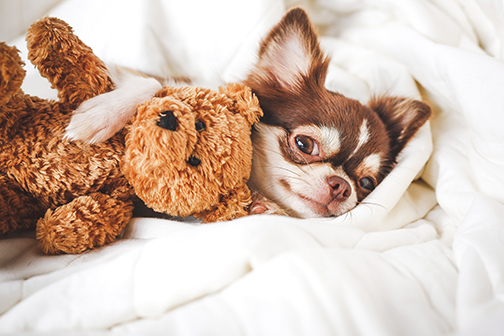 Puppy's First Night


Now that you have puppy proofed your home and have all your puppy supplies and are ready to welcome your new pup, the real fun begins.
It is a good idea to have everything already setup, so you can focus on spending time with your new companion. If you can, plan to take at least one day off or work from home for a few days. Being together as much as possible when you bring your puppy home will help to create a stronger bond.
As soon as you bring your Chi home, immediately take and show your pup their new potty spot, once they have gone, praise them. After you are inside, plan to take them out every two hours.
Chihuahuas love routine so now is the time to start to establish a routine and get your puppy familiar with her new home. Keep in mind this is a whole new world for your Chihuahua, as she has just left her litter to be with a new human family.
Every day will be full of new experiences for the both of you. Be patient and guide your puppy to be a sweet well-mannered member of the family.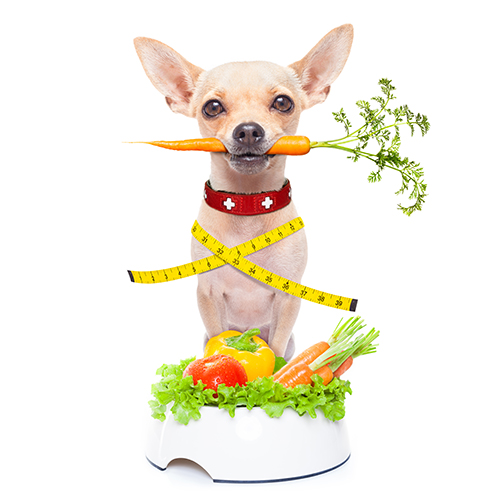 Everyone has a different opinion on what is best to feed a Chihuahua, but we can all agree that nutrition is extremely important for your Chihuahua. There is less margin for error when it comes to your Chi and their small stomach, rapid loss of heat and high energy and metabolism. A Chihuahua's diet throughout her life will have a huge impact on her health including dental disease and other illnesses. Basic nutrition components for your Chihuahua include water, protein, fat, carbohydrates, minerals, and vitamins. Learn more about the essentials for your Chi.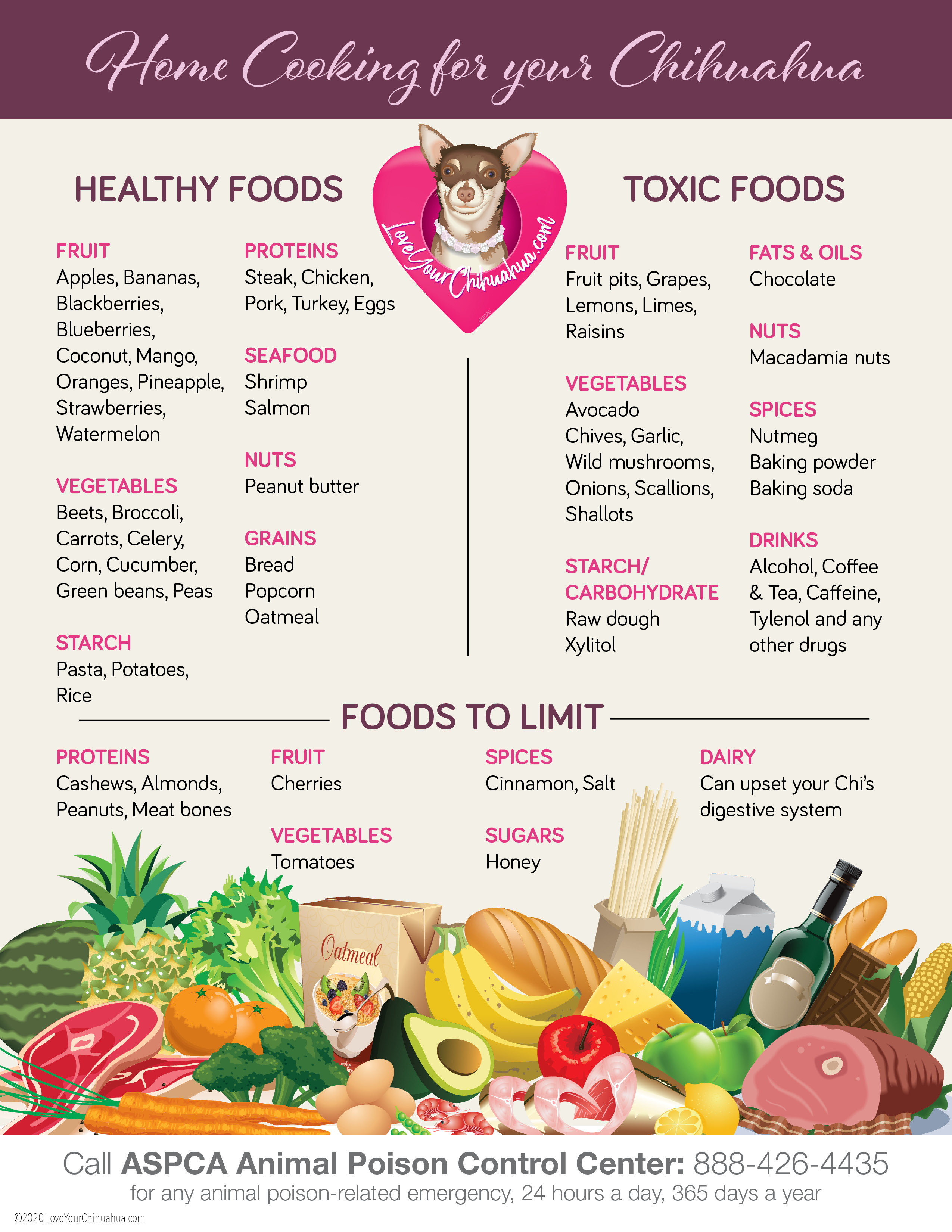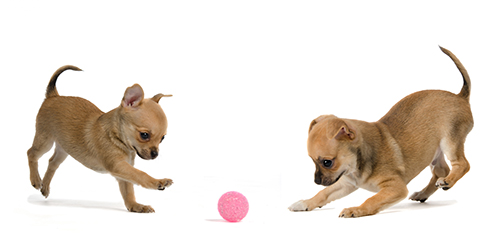 Chihuahuas have low exercise requirements and usually short daily walks are fine for your pup. They are playful at home, so they will get exercise that way as well. Never leave your Chi outside alone even in your secure backyard, as there have been many instances where hawks, owls, foxes, and even larger dogs scoop them up with their talons or in their mouths.
You and your veterinarian of choice will work as a team to ensure your Chi's good health. A few things to consider when choosing your new vet are overall availability, emergency, availability, costs, good clean facilities, communication, and location.
Learn more about wellness for your Chi, choosing a vet and creating a First Aid Kit.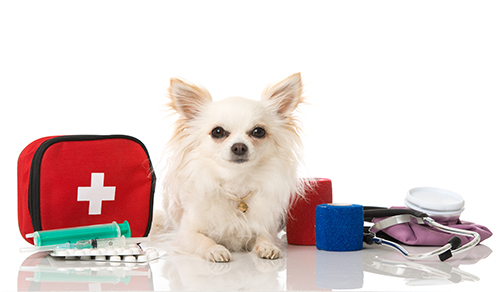 Connecting with your Chihuahua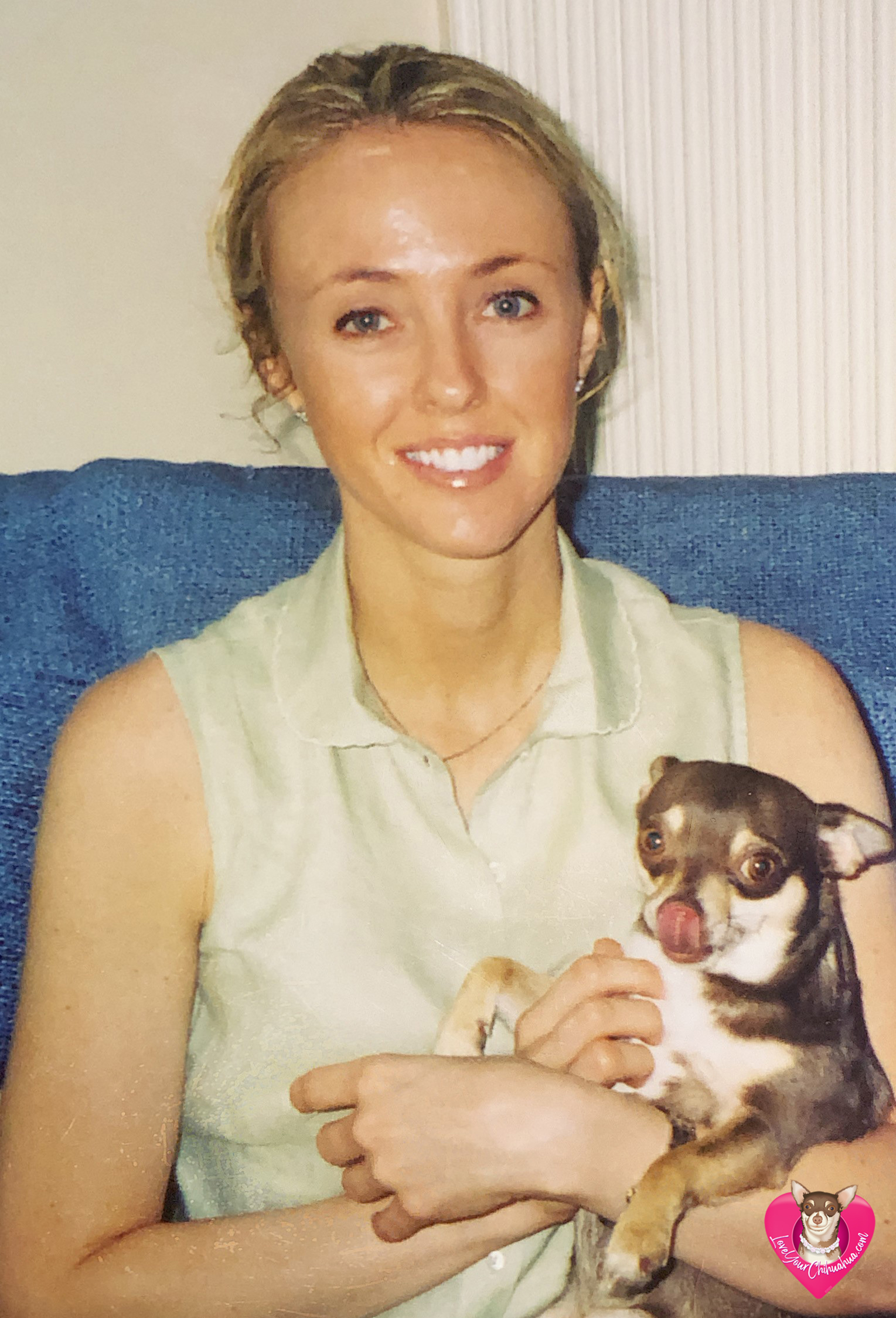 Chihuahuas are known for many things and being loyal to their pet parents is one of them. They enjoy spending quality time with you whether it is sitting on your lap during your leisure time or taking a ride around town with you.
Chihuahuas love attention and body warmth, so holding your puppy in your lap is one of the better ways to bond with her. She will not mind if you read or watch television at the same time!
---
Chihuahua Dog Care
Quick Links for the main topics you will find on Love Your Chihuahua